Mental health is high on the news agenda once again following the Government's pledge to recruit thousands more mental health workers into the NHS. Often the hidden side of disability, organisations need to work hard to support their line managers to spot and respond effectively to signs of mental health problems among their staff. As a Disability Confident Leader, AdviserPlus is helping some of the UK's biggest businesses improve their performance in this area.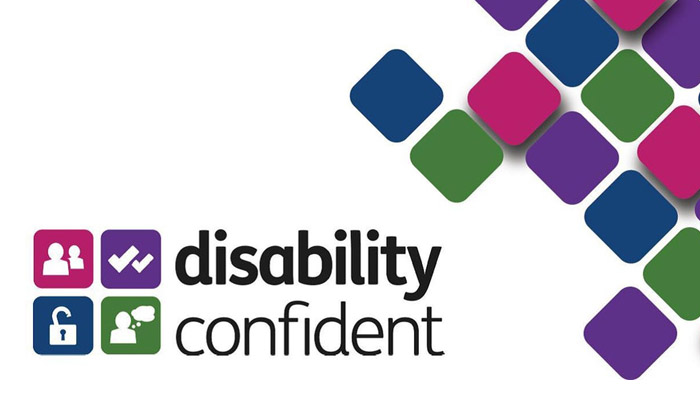 The Disability Confident scheme was created to address the huge gap in employment between non-disabled people (80.4%) and those with a disability or health condition (just 49.6%). Launched by the DWP in 2013, the scheme replaced the 'Two Ticks' symbol in 2016. It has three levels – Committed, Employer and Leader – and is designed to challenge attitudes, remove barriers and ensure disabled people have the opportunity to realise their aspirations.
AdviserPlus was part of the taskforce that developed the new standard, and was one of the first organisations in the UK to be accredited as a Leader. We now validate other Disability Confident Leaders.
For instance, we validated the Chartered Institute of Personnel and Development (CIPD). The CIPD believes there is a need for employer action to ensure talented disabled people can achieve their potential in work. As a Disability Confident Leader, it is working to encourage other organisations to remove barriers to disabled people applying for jobs or progressing.
Another organisation we validated as a Disability Confident Leader is London 2017 Ltd, the organisation behind this year's World Para Athletics Championships and IAAF World Championships. The London 2012 Paralympics succeeded in promoting the stories of disabled people and challenging the misperceptions that persist, and London 2017 is building on this by supporting disabled volunteers, as well as those competing. The National Governing Body for athletics, UK Athletics, is also addressing mental wellbeing of staff and athletes at London 2017 by supporting the Heads Together campaign to help create platforms for open conversations in a comfortable environment.
Pat Ashworth at AdviserPlus led the validation process for both organisations. She comments: "It's fantastic to see the hard work the CIPD and London 2017 put into their submissions, and the effort they have already made to support those with disabilities.
"In particular, both organisations recognise the importance of supporting employees with mental health problems. Hidden impairments can be easily overlooked, but that can be a costly mistake. Mental health issues account for 70 million days of sick absence per year, more than any other health condition, and half of all employees feel their work has at some point been impacted by a mental illness. This is not only bad for the individuals but also for the business, as reduced productivity directly affects the bottom line.
"Early intervention is vital and there are simple steps organisations can take to support employees with a mental health condition and help prevent it becoming acute. These include organising awareness workshops and training managers to become Mental Health First Aiders. But the best first step is usually an audit to understand the current situation, and this is where the Disability Confident scheme can help."
For more information on how AdviserPlus is supporting organisations through the Disability Confident scheme, and our Mental Health Awareness and Mental Health First Aid Workshops, please contact us.
AdviserPlus recently hosted a seminar focusing on taking a preventative approach to managing mental ill-health in the workplace.
Get in touch with us if you're interested in becoming a Disability Confident Leader.