Are store closures paving the way to a high street transformation?
It seems like every week another major retailer announces a flurry of impending store closures, with thousands of jobs affected.
With high rental fees, decreasing footfall, and the rise of online shopping, it comes as no surprise that stores are closing down – but does this mean the high street is about to go through a seismic change?
House of Fraser recently announced the closure of half of its stores, including its flagship site on London's Oxford Street, affecting around 6,000 jobs.
Meanwhile, M&S announced that its board has blocked annual bonuses for its top executives after a rapid decrease in profit – down 62% on last year – meant that shop floor staff wouldn't qualify for pay-outs. It plans to close more than 100 of its outlets over the next four years.
Toys 'R' Us went into administration back in February, closing all its stores and putting approximately 3,000 people out of work. Not only that, but the company has a £37m pension deficit, and owes £15m in unpaid VAT.
Survival on the high street
In the last six months alone, the closures of the following restaurants and retailers have resulted in approximately 35,000 job losses in the UK – and more are likely to join the list:

Last year 5,855 UK stores closed their doors due to the post-recession retail market. This year, PwC reported that store openings are at their lowest in seven years, as consumers' digital demands and appetite for experience-led retail continue to redefine Britain's high streets.
However, according to PWC's report, salons, coffee shops, ice cream parlours and bookstores have increased their presence on the high street. So, if Waterstones can overcome competition from the likes of Amazon's Kindle, there's clearly hope for others too. As Lisa Hooker, PWC's Consumer Markets Leader, explains:
We've seen a tough start to 2018, but it's important to remember the British high street still plays a vital role in society and there are elements of growth amongst the headline numbers of decline. For example, almost 400 new clothes shops opened last year, even though over 700 closed.

Retailers and leisure operators need to continue looking at their businesses – including their store portfolios – to make sure they have a clear brand and product offering. The winners at the moment, such as nail bars, coffee shops, bookstores and craft beer pubs, are all flourishing because they serve the needs of emerging consumer segments, and offer a differentiated physical proposition that online offerings can't compete with.
So, will only certain types of retailers be able to survive on the high street and others need to stick purely to ecommerce to survive?
Thriving with online ecommerce
Online fashion retailers seem to be flourishing, with ASOS reporting a 10% increase in pre-tax profit between September 2017 and February 2018, up 10% on the previous year. It's also reported a 27% increase in sales, which are set to hit £2bn for the first time this year.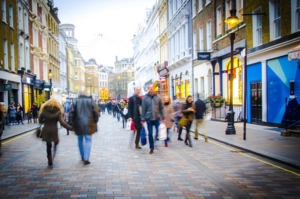 A few online retailers are still recognising the need for physical stores. Fast fashion retailer Missguided opened its first store in Westfield Stratford City, with founder Nitin Passi explaining that customers have been asking for a physical shop for a number of years:
"We believe the retail environment on the high street has got a bit stale so we have decided to take some of our online learnings and brand DNA into a physical space and use technology and in-store experiences to bring them to life.
"Social is huge for us so this will be a prominent feature throughout the stores and we will promote interaction with our customers as well as use the store as an opportunity to attract new customers who wouldn't necessarily shop with us online."
Protecting profitability on the high street
So, what can high street retailers do to keep their stores profitable? For each business, how it needs to approach the changing retail landscape will be slightly different – but here are a few ideas:
Create an omnichannel experience to bring online shoppers back into your stores. Many retailers are already doing this by offering instore returns for online purchases.
Make your shop a full retail experience. Topshop, for example, offers beauty services, rotating concession stands and live events in its bigger stores.
Offer free Wi-Fi instore. Follow Missguided's lead, and encourage your customers to promote your products on social media.
Restructuring the retail workforce
For retailers that are facing store closures, it may be time to consider restructuring their workforce and reassessing how they manage performance and productivity. That means ensuring they have processes in place to support:
Redundancy selection to optimise its workforce, and ensure the company still has all its bases covered.
Streamlined exit processes to ensure redundancies are fair, risk-managed and in line with company policy.
New training programmes to bring employees up to speed with changes in the business model, such as omnichannel service.
Targeted engagement campaigns to boost morale and performance through difficult periods for employees.
If you're going through these kind of changes in your company, we can offer insight into how to thrive in the changing retail climate:
Speak to our HR experts
Call us today on
Contact us