Privacy Policy
Our commitment and beliefs
We are committed to protecting your privacy and personal data
We will only collect and process your data when necessary
We will never sell, rent or distribute or make public your personal data
You have the right to request from us details about how we hold your data, and update your preferences at any time
For the purposes of this Policy, "we" or "us" refers to AdviserPlus Business Solutions Limited the data controller.
AdviserPlus Business Solutions Limited is part of the Empowering People Group.
The  website is designed to comply with the UK General Data Protection Regulation (GDPR),  the Data Protection Act 2018 and other related legislation.
Other companies that are part of the Empowering People Group are Working Transitions Ltd, Halborns Ltd and Learning Nexus Ltd, for more information on how they process data refer to their privacy notices:
Working Transitions Ltd Privacy Notice
Information Collected and How It is used
How we collect your personal information is detailed below, covering our use of cookies and website tracking, recruitment forms and data capture forms.
The information we collect will be used to:
provide you with the information, products or services that you sign up to;
carry out our obligations to you as a client for contractual purposes;
notify you about any changes to our services that affect you as a client;
provide you with information that you have consented to be contacted about;
ensure that content from our website is presented correctly;
If any information you provide to us changes, please update via the links provided in the Job Applications and Data capture sections and we will correct, update or remove any information that we hold about you. We may however need to retain archive copies of that information for legal purposes, such as to defend a legal claim or for audit purposes, such as to monitor marketing preferences and decisions.
AdviserPlus has a legitimate interest in processing personal data when marketing its services to other businesses that it has identified as having an interest in, or benefiting from, our services. The individual contacted via marketing communications can update their preferences or opt-out at any time. At this time AdviserPlus will update or remove the data record as appropriate. Where there is a legitimate interest basis AdviserPlus may share personal data from its marketing database with other companies that are part of the Empowering People Group.
Site visitor tracking & cookies
Like most websites, this site tracks user interaction. We use this data to determine the number of people using our site, to better understand how they find and use our web pages and to see their journey through the website.
We use tools including Google Analytics (GA), which although it records data such as your geographical location, device, internet browser and operating system, none of this information identifies you to us. GA also records your computer's IP address which could be used to identify you, but Google do not grant us access to this.
Disabling cookies on your internet browser will stop GA from tracking any part of your visit to pages within this website.
We also make use of other cookies, to distinguish you from other users. The different cookies we use: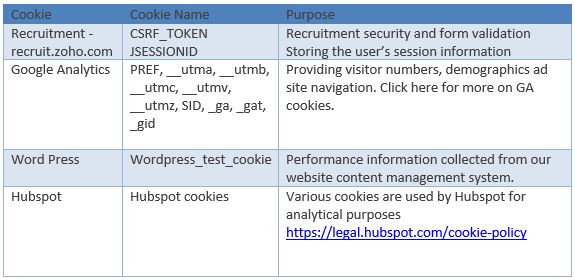 *We do not have control over the cookies deployed by Google. We need to accept them to take advantages of the services Google provides, which we believe to be of value to our visitors – their privacy policy which governs their use of cookies can be found here.
Can I block cookies?
You can block cookies by activating the settings on your browser that allows you to refuse the setting of all or some cookies. However, if you use your browser settings to block all cookies (including essential cookies), you may not be able to access all or parts of our site. Unless you have adjusted your browser settings to refuse cookies, our system will issue cookies as soon you visit our site.
For further information about cookies visit https://www.aboutcookies.org/ or http://www.allaboutcookies.org/
When will the cookies expire?
Except for essential cookies, all cookies will expire after a time period of between 30 minutes and two years.
Job applications
AdviserPlus.com – If you apply for any vacancies through our website careers page using the form on the page, none of the data you supply will be stored by this website. All applications made via our online recruitment portal provided by 360 Resourcing Ltd are processed securely and accessed only by our Recruitment Team. For more details about our Candidate Privacy Notice click here.
Data capture
AdviserPlus.com – If you choose to complete our website contact form, enquiring about our services, this information will be sent via email to salessupport@adviserplus.com, which is accessed by our sales team for processing your enquiry. We will store your information for the purpose of your enquiry and to contact you in the future if we believe our other services, resources or business updates will be of interest.
If you choose to add your details to our subscription page, any information you submit in this form will be stored in our Customer Relationship Management (CRM) system and may be used to send you relevant information according to your preferences.
For sales and marketing purposes we may collect the following personal data – your name, job title, your company name, company address, business email address, telephone number and your areas of interest where this is provided.
If you would like to change how we process your information for marketing purposes, you can update or opt-out at any time here.
We will hold your data for as long as you are happy for us to hold your data, and you can easily unsubscribe or update your preferences at any time through the link at the footer of the email communication.
Aldermore Bank plc – marketing of AdviserPlus services is performed by Aldermore Bank plc and contact information (e.g. name, business email address, telephone number, company details) provided will be processed by AdviserPlus on the basis of legitimate interest and once contact registers or subscribes data will be processed based on consent. Contact and business service information will be shared with Aldermore Bank plc for analytical purposes, please refer to their Privacy Notice.
AdviserPlus uses marketing lists to engage with decision makers on a legitimate interest basis. Marketing list contacts are supplied by Honch Data Limited, please refer to their Privacy Policy.
AdviserPlus uses LinkedIn to deliver targeted advertising campaigns and to capture relevant contacts. Contacts when engaging with content on LinkedIn will be shared with AdviserPlus and added to our marketing database on the basis of legitimate interest.
Please refer to the LinkedIn Privacy Policy Privacy Policy
External website links
From time to time we may contain links to and from other websites. If you follow a link to another website, please note that the website in question will adhere to its own privacy policy and we do not accept any responsibility or liability arising from their policy, or from your use of their website. You should always check the website's privacy policy before submitting any information to it.
Third party data sub processors
We use third parties to process data on our behalf, these are noted below. These third parties are subject to change:
Third Party Purpose of holding data
Google – For website traffic monitoring & analytics reporting For more on Google & GDPR click here. https://www.google.co.uk/intl/en/policies/privacy/
HubSpot (Marketing Hub) – To send marketing emails and for some marketing automation. We can also review the pages on our website you have visited, the buttons within the pages you have clicked and our social media accounts you have viewed. For more on HubSpot see https://legal.hubspot.com/privacy-policy
HubSpot (CRM) – To hold data for marketing purposes and to keep a re
cord of interested parties with whom we would like to communicate with for marketing and legitimate processing purposes. For more on HubSpot see: https://legal.hubspot.com/privacy-policy
ON24 – For presenting webinars. For more on ON24 see: https://www.on24.com/privacy-policy/
Hyve – Marketing website hosting. For more on Hyve: https://www.hyve.com/resources/privacy-policy/or https://www.hyve.com/compliance-and-accreditation/
Stripe – For SME clients only. To process client payments, we use a third party supplier Stripe. For more on Stripe see: https://stripe.com/gb/privacy
Aldermore Bank plc – For marketing of AdviserPlus services and analytical purposes. For more on Aldermore Bank plc see: https://www.aldermore.co.uk/legal/privacy-policy/
Mastraw – Digital marketing and strategy agency with access to Hubspot. For more on Mastraw see: https://mastraw.co.uk/
Outgrow – Provides interactive tools that are embedded in our website and are shared in our marketing emails and social posts such as diagnostic tools, surveys and polls.
If you choose to submit your personal details into any forms presented at the end of these tools, they will be processed by Outgrow then shared with AdviserPlus via a link to our CRM, HubSpot. For more on Outgrow see: https://outgrow.co/global-data-privacy-policy/
Sopro – Prospect Global Ltd (trading as Sopro). Provides digital marketing services to AdviserPlus. For more on Sopro see: https://sopro.io
Sopro are registered with the ICO Reg: ZA346877. Their Data Protection Officer can be emailed at: dpo@sopro.io
Storing your personal data
For job applications and recruitment, the data that we collect from you will not be transferred, processed and stored outside of the European Economic Area ("EEA"). For marketing and sales communications where we use HubSpot, this data is processed and held in the USA and we have taken all steps reasonably necessary to ensure that your data is treated securely and in accordance with this privacy policy.
Please note that where you have a password which enables you to access certain parts of our sites, you are solely responsible for keeping this password confidential and you must not disclose it to anyone.
We will do our best to protect your personal data, however the transmission of information via the internet is not completely secure and therefore we cannot guarantee the security of any data you transmit to our site. Once we have received your data it will be processed in line with organisational and technical measures that we have implemented to prevent unauthorised access.
Disclosing your information
If we hold your personal information, we may disclose this information to any member of our Group (subsidiaries, holding company and its subsidiaries, as defined in section 1159 of the Companies Act 2006) for example sale or transfer of the business.
In certain circumstances, we may disclose your personal information to third parties but only in the following circumstances:
If we are required to do so by the courts or to comply with other legal, statutory and/or regulatory obligations, including for accounting and taxation purposes;
Where it is necessary to provide you with information or services;
To protect your rights, property or safety of AdviserPlus, our customers or other stakeholders (this may include sharing information with other organisations for the purposes of fraud protection or prevention and credit risk management;
In the event that we sell or buy any business or assets, where we need to disclose your information to the prospective buyer or seller;
If AdviserPlus or all of its assets are acquired by a third party, where personal client information will be one of the asset transferred.
Your rights
You have the right to request that we stop processing your personal data at any time for marketing purposes. At the point of data collection, we will give you the option to consent to marketing communications, and once opted in you will have the right to update your preferences at any time or unsubscribe from all communications. You can do this via our Preference Centre.
Your rights under the General Data Protection Regulation are as follows, which we will adhere to:
The right to be informed
The right of access
The right to rectification
The right to erasure
The right to restrict processing
The right to data portability
The right to object
Rights in relation to automated decision making and profiling.
If you wish to exercise these rights please let us know via the Contact Us link on the website.
Data breaches
If you believe that AdviserPlus has not complied with your data protection rights, you can complain to the Information Commissioner.
Data controller
Data controller: AdviserPlus Business Solutions Ltd of AdviserPlus Business Solutions Ltd, Pioneer House, Pioneer Business Park, North Road, Ellesmere Port. CH65 1AD.
Contact Us – Data Protection
Data protection queries should be directed to: Information Security Manager, AdviserPlus Business Solutions Ltd, Pioneer House, Pioneer Business Park, North Road, Ellesmere Port. CH65 1AD. Email: dataprotection@adviserplus.com
Changes to our privacy policy
This Privacy Policy may change from time to time in line with legislation or industry developments. We will inform those held on our marketing database of major changes to the policy, and for minor changes and other website users then refer to this page for other policy updates.
Last updated: 20/12/2022