Digitally simplify your ER processes with empower
Our cloud-based technology solution revolutionises the management of employee relations processes for HR, line managers and employees.
empower technology provides simplified digital experience for managing people processes
Our innovative technologies provide HR, line managers and employees with easy access to the right ER tools, at the right time, to support taking the necessary action with confidence, delivering efficiencies, reducing risk and capturing data to feed actionable insight.

"It's so intuitive. It's built around how HR advice is actually provided. We're not fitting around the software; the software fits around us".
Ann Haydock, Head of HR Advisory Services, Iceland Foods
Process Manager
We ensure that managers can take responsibility for people matters without introducing risk by taking them on tailored, guided journeys through your employee relations processes.
Process Manager is an innovative, built-for-purpose ER process management engine for both HR and line managers that simplifies ER processes, streamlining delivery and creating efficiencies.
Your managers are guided through ER process, are prompted to take action at the right time, may engage with HR where complexity or risk arises and a full audit trail of every action and decision provides assurance.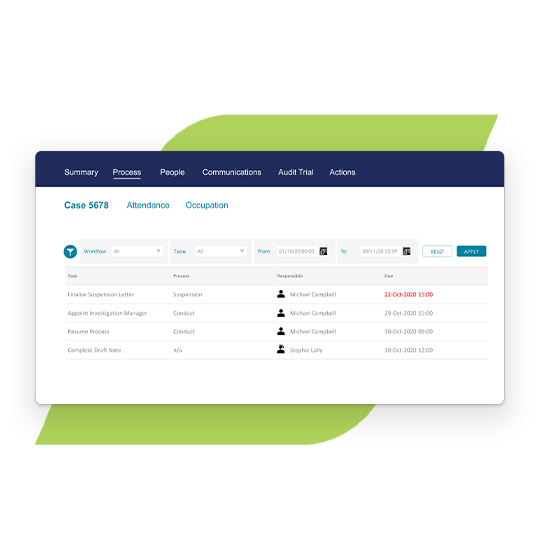 Knowledge Manager
We ensure that managers are equipped to take greater ownership of people matters by giving them the understanding to take action with confidence.
Knowledge Manager translates your ER policies, processes and procedures into a series of easy-to-access, easy-to-follow flowchart-driven guides.
Your managers can upskill on people management matters 24/7, Knowledge Manager is proven to increase line manager engagement, confidence and capability and will result in a reduction in HR policy enquiries.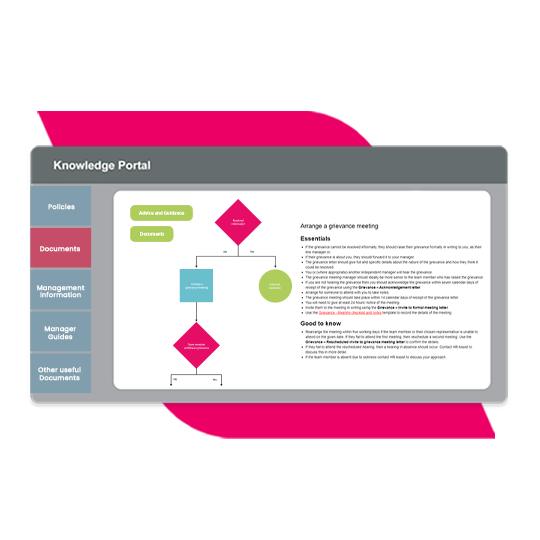 Document Manager
We ensure that managers are able to correspond clearly, consistently and effectively in ER matters by giving them the means to create timely case letter correspondence.
Document Manager generates case letter correspondence dynamically, integrate your letter templates with data points from the case and the employee subject.
Your managers can take control of decisions and outcomes on people matters and they can work collaboratively with HR colleagues to approve and sign off letters, with the end result of producing timely, accurate and consistent case-related documentation.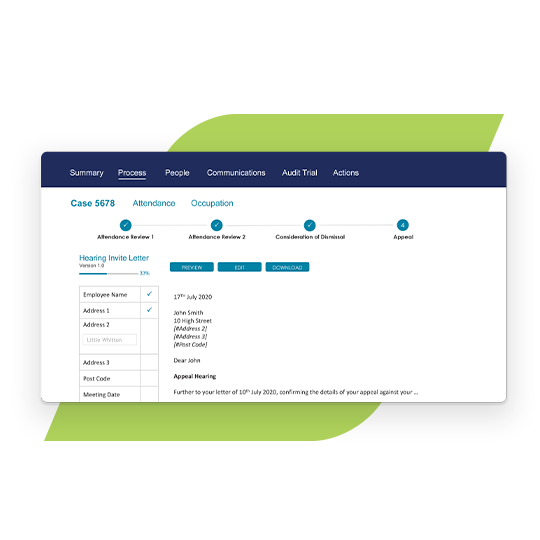 Frequently asked questions
empower handles this with ease:
We can either configure different processes relating to the same policy, or branch a process to handle more subtle nuances. We can further ensure that a manager navigates the right process and views the appropriate content aligned to the employee subject of the case.
We can host different views of the content and configuration in different brands and ensure that end users view the solution in the appropriate brand for them.
We have purposefully designed empower to support an HR transformation journey and recognise that each organisation starts in a different place in terms of its confidence in giving managers control of cases. We fully expect the configuration of the service will evolve as your:
HR strategy changes;
HR service operating model evolves; and
Line managers exhibit greater confidence and capability in managing people matters independently of HR.
We work in partnership to make sure we evolve the configuration of the system over time to support these aims and such change is quick and easy to achieve.
Whilst every organisation with which we work is different, in our experience the empower solution may be mobilised and embedded within an organisation's ways of working within 3-5 months. Factors that impact the pace of implementation include:
Your readiness and resourcing for the project;
Number of in-scope policies, policy variants and different brands;
Number of launch phases.
empower  is typically accessed via a form of single sign-on (SSO) for optimum user experience. We support most forms of SSO, including SAML 2.0 and AD. If, for any reason, you are unable to set up SSO, we can provide access through manual login (username and password pair).
empower is hosted in the Microsoft Azure cloud in the UK. We provide offer geo-replication between Microsoft's South and West England hosting centres. Our technologies are subject to regular independent third party penetration tests, as well as performance testing to ensure our services scale to meet our largest clients' demands. All maintenance is undertaken by ourselves and the technology solution is subject to a programme of continuous improvement, drawing its requirements and priorities from market analysis, customer engagement and end user inputs.
To see empower in action, please use the section below to request a demonstration from one of our team.