How much staff absence is costing you (and what to do about it)
You know that staff absence is costly. But how costly? And what can you do to drive those costs down? Every HR leader understands the impact of absenteeism only too well:  on productivity, on operational and legal costs, and even on brand reputation.  But for many large organisations, quantifying that impact is tough – and reducing it, even harder.
Technology & people are key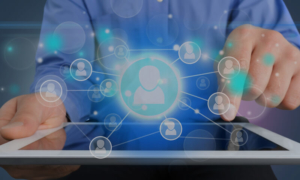 HR leaders often lack the data they need to understand absence and its root causes. Line managers, meanwhile, lack the materials, support and confidence to effectively address absence cases within their team.
Here's the good news. With the help of new technology, and good-old-fashioned human expertise, it's increasingly possible to tackle absence head-on – and achieve significant cost savings across your organisation.
Step #1. Empower your people managers.
In the battle to reduce absenteeism and its costs, you need a capable, confident front line.
Too often, the fear of saying or doing the wrong thing prevents managers effectively communicating with their staff and addressing absence issues before they escalate.
These concerns are particularly acute when it comes to mental health related absence – which now accounts for almost 13% of absence due to sickness in the UK.  Source: MentalHealth.org.uk
Establishing a formal absence management process is crucial, but it isn't enough. Managers also need timely support and coaching, from people who know employment law – and their organisation's own policies – inside out.
If you don't want to develop this capability in house, companies like our own can help. Employee Relations Managed Services can give line managers, with an instant direct line, exactly this kind of expertise, enabling faster resolutions, and better outcomes.
Step #2. Get proactive.
Great, cost effective, absence management isn't just about helping line managers when they reach out. It's about an ongoing, two-way flow of information between managers and those supporting them.
Nobody wants to seem a nuisance, so once a manager has acted on expert advice – whether it's from your HR shared services centre, or an HRBP – there's a danger they'll put off asking for help again until they absolutely have to. And by that time, the situation may have deteriorated further.
A better solution is to proactively manage absentee cases on behalf of line managers, nudging them to follow up at the right time and take appropriate next steps as the situation evolves. In our work alongside managers, we've seen the value of the proactive approach time and time again – and with the right technology, it's actually far less resource intensive than you might think.
Step #3. Start pre-empting.
What's even better than rapidly resolving absence cases? Tackling absence before it happens.
With the right HR technology and analytics, you can start capturing crucial data – for example, the content and context of your line managers' interactions with their teams – and seeking out trends and patterns in absence, organisation-wide.
As you bring these insights to bear, a virtuous circle is created: people managers gain greater confidence, more absenteeism cases are addressed, more data is collected, and fresh insights are gained.
So, how much could you save?
Through more effective absence management, we've been able to help organisations cut long term sickness by as much as 45%. And often, the associated cost benefits have been huge. United Utilities, for example, has reduced its long-term sickness cases from 213 to 87 days a year – saving £2.15m annually.
But every organisation is different.
We can help you to coach your managers to give them the skills and confidence they need to monitor your sickness and absence trends, and make better more consistent interventions. Don't just take our word for it. See how we've helped Post Office and United Utilities cut absence.
If you'd like to find out more about how you can cut the cost of employee absence through proactive management, download this guide:
Speak to our HR experts
Call us today on
Contact us