More work needed to increase awareness of Disability Confident
Disability Confident is the Government's flagship scheme to address the significant gap in employment between disabled people and those without a disability or health condition.
Launched by the DWP in 2013, it is designed to remove barriers and ensure disabled people have the opportunity to secure employment in an environment which is supportive of their specific needs and ambitions.
With more than 5,000 organisations already signed up, the scheme is already proving successful in changing attitudes and helping businesses improve their practices.
The strength of Disability Confident
One of the real strengths of Disability Confident is that it recognises the importance of supporting employees with mental health problems as well as physical disabilities. These hidden impairments can be easily overlooked, but that can be a costly mistake.
Mental health issues account for 70 million days of sick absence per year, more than any other health condition, and half of all employees feel their work has at some point been impacted by a mental illness.
Is the message getting through?
However, in our recent survey of HR professionals it suggests that messages about Disability Confident and the benefits it can bring are not getting through to businesses. Almost three in five (59%) HR professionals scored themselves less than 5 out of 10 for awareness of Disability Confident, while only one in five (21%) scored themselves 8 out of 10 or more. This is concerning given less than a third (30%) of HR professionals gave a score of 8 out of 10 or more when asked how proactive their organisation is in managing mental wellbeing in the workplace.
Good business sense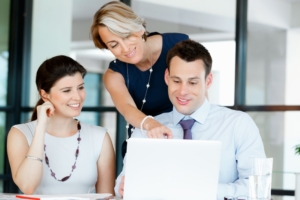 Disability Confident has the potential to radically improve the lives of disabled people across the UK in the future. But it also makes good business sense.
The scheme helps businesses open their doors to new talent and increase employee retention.
It enables employers to identify the best ways to support their disabled employees, which can reduce absenteeism and improve productivity.
And it allows organisations to demonstrate to customers and partners their support for disabled people.
We'd encourage all businesses to become Disability Confident.
As Disability Confident Leaders, we regularly help other businesses on their Disability Confident journeys and validate them as leaders. Find out more by downloading the guide below:
Speak to our HR experts
Call us today on
Contact us