10 point checklist: Optimise your ER people metrics

HR departments are awash with data, but it's often not utilised effectively. To create a more agile and business-driven HR function, it is essential to effectively analyse employee relations (ER) metrics and extract actionable insights from the HR data available. This involves identifying trends and understanding the details affecting employee experience, enabling data-driven decision-making that can enhance employee engagement and drive business success.
ER metrics play a key role in driving business success
ER metrics play a crucial role in driving business success. However, many businesses often lack a fit-for-purpose solution to extract the right information from their ER data. Therefore, investing in a suitable case management solution is vital to address this need. When engaging with technology suppliers, HR leaders must articulate their requirements clearly for a case management system. The system should be capable of facilitating proper data collection and analysis to optimise ER data analysis.
Emphasis should be placed on ensuring that the case management system has the capabilities to effectively track the reasons for grievances and disciplinary cases, comprehend the likelihood of different outcomes, and identify patterns in the data. By doing so, HR leaders can make informed decisions and select the technology that best aligns with their organisation's needs, ultimately achieving optimal ER metrics. These metrics will serve as valuable insights to support strategic decision-making.
Explore our 10-point checklist below to learn what to look for when assessing the technology you need to facilitate a data-driven approach to employee relations.
10 point checklist for optimising your ER people metrics
Aligned: Data input must be aligned with the organisation's context, policies, processes, and procedures. This ensures that the insights are relevant and accurate.
Structured: Inputs should be structured as much as possible, using selectable options that are aligned with the organisation's specific context, rather than just free text inputs. This makes it easier to derive structured, consistent themes from the data.
Consistent: Accurate insights are a direct outcome of maintaining consistent inputs, which involves using the same terminology and definitions throughout the data collection process.
Accurate: To ensure their usefulness, accuracy is crucial in the insights. This means having controls in place to ensure that the data is entered correctly and that there is quality assurance between the input and output stages.
Current: Insights must be current to be relevant. This means ensuring that the data is both updated and extracted for analytics purposes regularly and that the insights are not outdated.
Relevant: The insights must be relevant to the organisation's business and HR priorities and strategies, ensuring alignment with the organisation's goals and objectives.
Well-presented: Easily understandable insights are achieved through well-presented visualisations. This means using clear and intuitive visualisations that help to tell the story of the data.
Accessible: The insights must be accessible to the people who need them. One dashboard that contains everything helps relevant people access information easily.
Repeatable: The insights must be repeatable to track the impact of change or intervention. This means having a process in place to generate the insights on a regular basis.
Targeted: Tailoring insights to the specific needs of decision-makers ensures that the data shared is valuable and actionable for them, enabling better decision-making within their context.
The above points can prove invaluable in guiding HR leaders seeking to gather reliable people insights that align with their organisation's needs, providing them with a foundation of questions to ask suppliers and their internal IT team.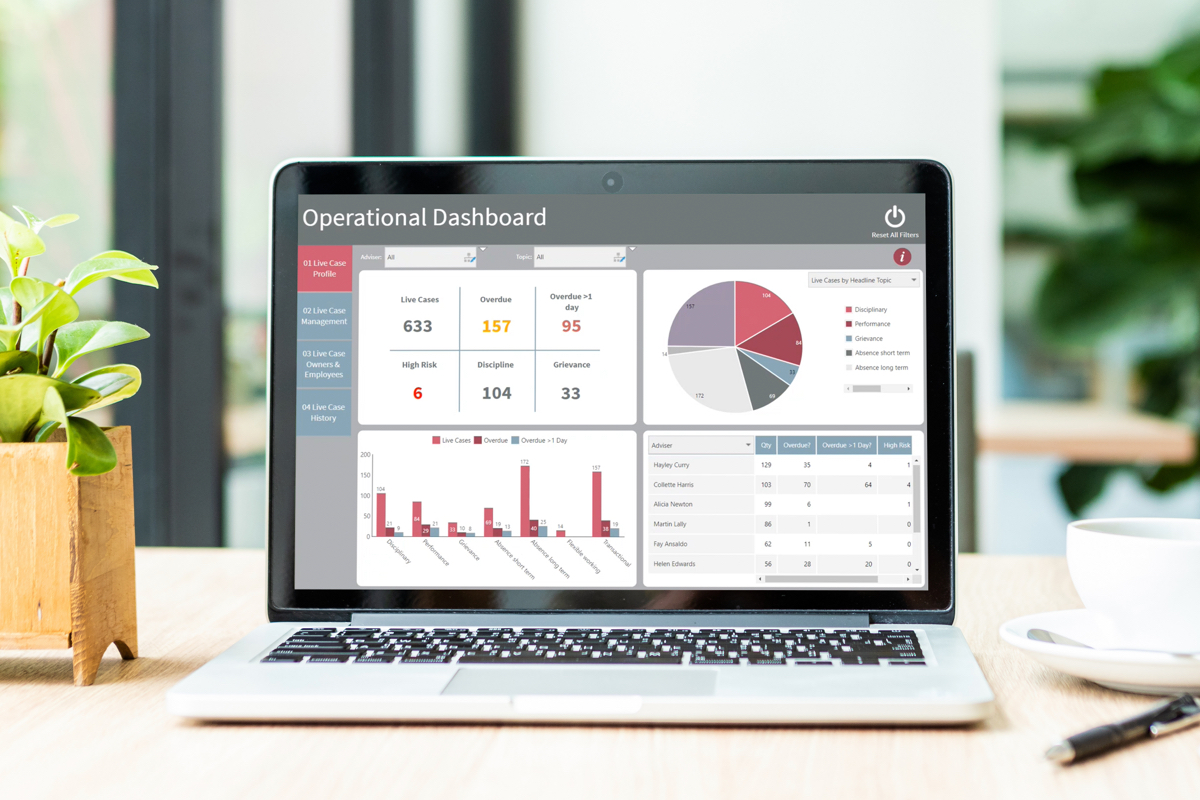 Enhance employee relations metrics through HR and IT collaboration
AdviserPlus highly recommend HR leaders conduct a thorough assessment of their current ER metrics and data collection methods. It is crucial to evaluate the accuracy, completeness, and accessibility of ER metrics to ensure the organisation acquires reliable information about employee relations and gains a comprehensive understanding of the overall situation.
With this valuable insight, HR departments can effectively assess the specific training needs of their managers and identify areas for improvement in current practices. By leveraging the information gathered during this process, HR leaders can pinpoint new solution requirements and explore potential partnerships to further enhance their employee relations strategies.
This strategic approach not only ensures the continuous improvement of employee relations practices but also facilitates the organisation in identifying partners who align with their goals and values. This proactive approach will enable managers to handle people-related issues more effectively, fostering a better work environment.
The best employee relations case management and analytics software

Our employee relations solution, empower®, enables individuals to better understand and engage with people matters. By using this case management software, organisations can enhance their understanding of people management challenges and improve their overall effectiveness in managing employee relations.
How does analytics within the empower® case management system work?
Our analytics solution combines key case information from our technology set with your people and organisational structure data. The output is a series of user-friendly dashboards that visualise key measures, snapshots, and trends that paint a picture of your people across your organisation.
With comprehensive analytics capabilities, you can view high-level case volumetrics, break down activity into trends, events, and outcomes, and even drill down to line-by-line detail. With the dashboards refreshed as frequently as daily, you have key people metrics at your fingertips to inform your decisions and HR strategy.
Benefits of investing in empower®.
Our team of in-house people data insight analysts regularly review your data to identify themes, trends and stories
Self-service dashboards are complemented by quarterly service review packs that lift key messages and identify opportunities for intervention
When you subscribe to the AdviserPlus empower® solution, you buy into our insight expertise that will surface the points of most interest and work with you on formulating the right interventions.
Learn more
If you're interested in learning more about our analytics solution, click here, or please contact us today. We'd be happy to discuss how we can help you achieve your people management goals.
Speak to our HR experts
Call us today on
Contact us