Championing inclusion: 5 steps to making an impact
Organisations are increasingly realising the importance of creating an environment where every employee feels valued and respected. But sometimes, they miss the mark because they don't fully grasp the complexity of people's identities and life experiences.
Inclusion is not just about race, gender, sexuality, or socio-economic status. It's about recognising that every employee is an individual, and there may be factors that impact their experience within work in a different way to others. It's about understanding what someone might need when they're dealing with anything that may impact their ability to feel fully included. This could be anything from a neurodivergence to going through the menopause, undergoing fertility treatment, or being a carer.
Inclusion starts with building relationships with your employees that enable them to be open about any aspect of their unique needs and any accommodations that may need to be made. The first step to improving inclusion is to create a culture of openness, empowering managers to build close personal relationships with their direct reports.
As experts in ED&I consultancy and manager empowerment, here are 5 tips on how to ensure your organisation prioritises inclusion:
Assess where you are today
Understanding where there are gaps in knowledge, training, policies and communication, is a good place to start in identifying your priorities for a robust Equality, Diversity and Inclusion strategy. Engaging employees and managers across the business to find out their lived experiences will be of value to help capture what you are doing well, and where there can be improvements. For instance:
Do your onboarding policies and processes communicate the right message to an employee on day 1?
Are your managers well-trained to spot employees who may be experiencing difficulties in their day-to-day work?
Are your communication channels inclusive to everyone in the business?
These are just some examples of questions you could ask to start mapping your ED&I priorities. It is also valuable to engage experts in reviewing every aspect that could impact employee experiences, such as:
Recruitment practices
Workforce demographics
Pay equity
Career advancement opportunities
The overall workplace environment.
Identifying areas in need of improvement in terms of representation and the treatment of all employees, regardless of their background, helps HR leaders gain a deeper understanding of each individual's unique experiences and perspectives. This assessment can inform the development of tailored ED&I strategies aimed at fostering a more inclusive and equitable workplace for all.
Establish and implement general ED&I inclusivity policies
Developing specific policies to recognise and address the needs of individuals that go above and beyond protected characteristics will help to create a more inclusive and equitable work environment for everyone.
By acknowledging and accommodating the distinct experiences and challenges faced by employees with diverse backgrounds and identities, organisations can nurture a workplace culture that values and supports differences, ultimately removing barriers to full participation and advancement for historically marginalised groups.
Provide training and education on diverse identities
Offering learning and development workshops that help employees understand how different identities intersect and influence individuals not only increases awareness and encourages respect but also fosters a sense of value and belonging in the workplace.
Employee engagement and satisfaction are vital, and a workforce that comprehends these dynamics is more likely to be innovative and productive. Diverse teams bring a wider range of perspectives and experiences to problem-solving, aiding organisations in achieving their objectives.
Continuously monitor and adapt ED&I initiatives
Ongoing monitoring of ED&I initiatives ensures that organisations remain adaptable to new legislation, new protected characteristics, and the continual improvement of inclusion in the workplace. This approach helps guarantee fair treatment for all employees, regardless of race, neurodiversity, gender, sexual orientation, religion, or other personal attributes or experiences.
By considering the broad spectrum of ED&I issues, organisations can better understand the unique experiences and challenges faced by various groups, enabling them to create more effective and tailored policies. This, in turn, leads to enhanced employee satisfaction, increased diversity in the workforce, and a more positive corporate culture.
Champion inclusivity
Advocating for inclusivity impacts an organisation externally and enhances employee satisfaction, motivation, and engagement. Not only does this aid in fostering innovation and the contribution of fresh ideas to problem-solving but it helps to strengthen the organisation's reputation externally.
An organisation that champions ED&I inclusivity will more likely attract and retain top talent, customers, and partners who share similar values regarding diversity and inclusion. Embracing inclusivity can lead to improved organisational performance, increased financial turnover, and a positive societal impact.
To understand how you can better support your organisation's ED&I initiatives and champion a culture that welcomes every individual, book a call with Jenny Jones, our HR Solutions Manager.
Small steps towards improving inclusion
Taking any action towards improving inclusion and understanding the experiences of your individual employees is better than standing still, so don't wait to get everything in line before making changes. Small steps can make a huge difference.
Inclusion is at the heart of everything we do and we have an InclusivityPlus team who meet monthly to share ideas and plan activities to ensure we keep inclusion front and centre of our culture. We are also proud to be a Disability Confident Leader Organisation and can support other organisations in becoming Disability Confident.
Our passion for inclusion doesn't end with what we do for our own people. We are working towards improving inclusion in all areas. Here is just one example of how we are taking small steps, thinking differently about inclusion by making our webinars more accessible for those in the deaf community. 
Did you know that according to the British Deaf Association, over 87,000 people in the UK have BSL as their preferred language? BSL is not a direct translation of English, so for those in the deaf community whose native language is BSL, written English in subtitles does not go far enough in making webinars accessible to them. We want to ensure this community can engage with the content we share, so we had a native language BSL teacher, Andrew Mayor at Defero5, translate a webinar we ran earlier this year – 'An HR revolution: The era of people-empowerment' – and we plan to continue to do this where possible on future webinars.
Register to watch the full webinar  
Click the image below to register to watch the full webinar.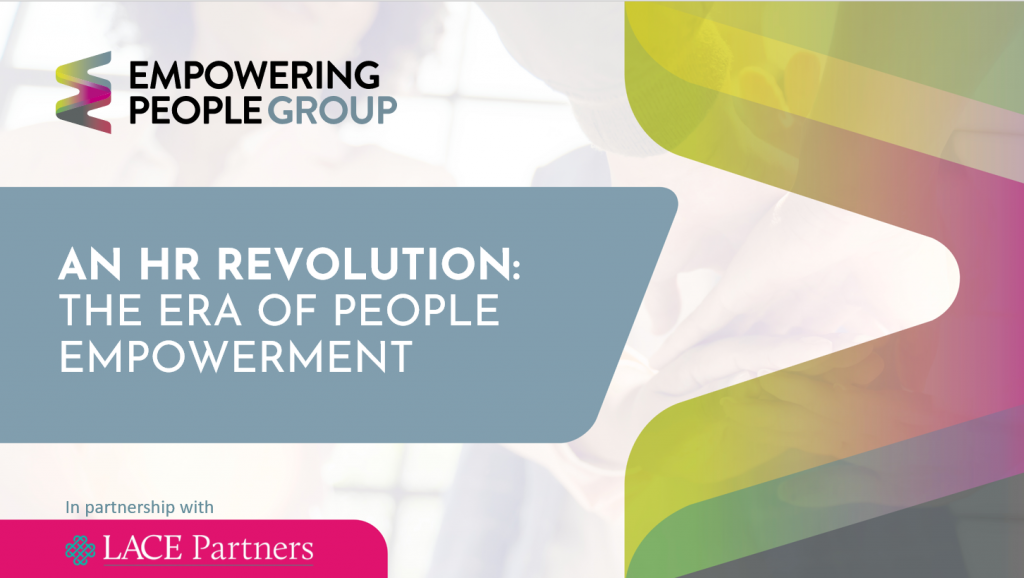 Speak to our HR experts
Call us today on
Contact us