AdviserPlus helps Leeds Marriott Hotel lead the way in being Disability Confident
Leeds Marriott Hotel is a 244 bedroom hotel in the heart of Leeds and is one of over 6,700 properties as part of the Marriott International Global footprint. They have achieved the highest level of the Government's Disability Confident scheme, having been validated as a Disability Confident Leader by AdviserPlus. The Disability Confident scheme is designed to address the gap in employment levels between non-disabled people (80.5%) and those with a disability or health condition (45.7%).
As part of its Disability Confident Leader accreditation the Leeds Marriott Hotel:
Are leading the way by empowering their Leadership Team with knowledge and equipping them with the skills to be an inclusive and diverse leader and employer of choice.
Have a robust TakeCare Programme in place to promote and educate the importance of wellbeing in the workplace and in employees personal lives. This includes such things as wellbeing classes, training, access to resources and focusing on the 3 pillars of their TakeCare Programme, Me, You+Me.
Offer Mental health First Aid training to their Leadership Team, which will equip them with the skills and knowledge to support their associates with mental health – directing them to the resources available and have access, help and guidance.
Work with educational partners to raise awareness that hospitality can be a career choice. They are actively involved with networking, by attending various career events to raise awareness and support their local community to reduce unemployment in the city.
They pride themselves on supporting corporate & social responsibilities, and offer work experience, work placements and educate people about hospitality. They also offer and encourage students and youths a taste of what it would be like working in the hospitality industry.
They continue to network with other businesses in the city through LHVA "Leeds Hotels and Venues Association" and Light House Futures Trust Employers Forum to encourage others to be a Disability Confident business.
They open their doors to anyone who would like to know more about the hotel, the business and the industry. Promoting hospitality is a passion of theirs and they are proud to work for such a wonderful company and be ambassadors for Marriott International.
Jayne Uren, Human Resources Manager at Leeds Marriott Hotel commented: "We're proud to be recognised as a Disability Confident Leader. We work hard to encourage people with disabilities to apply for jobs with us and to ensure all our employees are able to enjoy an accessible environment, free from discrimination. Working with AdviserPlus we were able to recognise our strengths and understand our weaknesses, and create an action plan to improve. We look forward to using our role as a Disability Confident Leader to help others."
Pat Ashworth, Director of Learning Solutions at AdviserPlus, led the validation process. She said: "Becoming Disability Confident enables organisations to demonstrate what they are doing to reduce the challenges people with disabilities face in the world of work. We've been involved in the scheme since its inception and it's great to see new initiatives starting all across the country. The Leeds Marriott Hotel has taken an innovative approach and we wish them every success."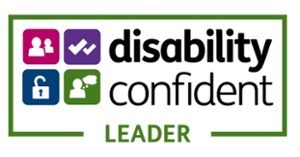 If your business is interested in becoming a Disability Confident Leader download this guide for more information.
Speak to our HR experts
Call us today on
Contact us