Mental health and wellbeing in the workplace resources
Mental health and wellbeing is at the heart of our culture
We're committed to raising awareness of mental health and wellbeing in the workplace, so we've pulled together a collection of resources that help support organisations to be inclusive and supportive of positive mental health.
Driving the Disability Confident agenda
We're proud to be a Disability Confident Leader – one of the first companies to be accredited in the UK. Our Learning Director, Pat Ashworth, sits on the Government's Disability Confident Professional Advisors Group (PAG), helping to ensure that it's flagship 'Disability Confident Scheme' is robust and also helping to ensure we stay at the forefront of developments in disability inclusion strategies. The Government's Disability Confident Scheme provides a great starting point for employers to develop environments that are more accessible and help improve recruitment, retention and development opportunities for disabled people within their organisation.
We interviewed Pat to find out more about what it means to be a Disability Confident organisation and why we need to continue to push the agenda to drive change for disabled talent in the workplace. Watch now to hear expert insight on the benefits of creating more accessible and inclusive working environments. Watch this engaging 10-minute interview where you'll learn:
Strategies to raise awareness and foster positive attitudes towards disability
The potential barriers that organisations may encounter while supporting disabled employees and how to overcome them
How to increase understanding of the practical implications of changes in disability legislation.
The scheme is a great way of letting everyone know that you're serious about becoming an inclusive employer.

– Pat Ashworth, Learning Director
Check out this video from Pat Ashworth discussing how how you can become a Disability Confident Employer.
Measuring the impact of wellbeing programmes in the workplace
Creating a healthy and inclusive working environment requires clear objectives and measures of effectiveness to ensure wellbeing strategies meet the needs of your people. Check out this must-watch video to hear expert insights into optimising your strategies, leveraging your technology and creating high employee engagement.
Mental Health First Aid and Awareness training
Sharon Benson, explains why AdviserPlus was her first choice for providing mental health first aid and awareness training for managers in Sunrise Senior Living.
Supporting the DWP in Mental Health Awareness Month
Watch this short overview of the Disability Confident Scheme and why it's so vital that organisations invest in supporting the mental wellbeing of their workforces. Held at the Foreign & Commonwealth Office in partnership with DWP, you can watch the full speaker presentation here.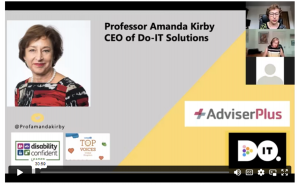 IN THE PRESS
We regularly feature in thought leadership pieces in the press, helping to raise awareness and breakdown barriers to mental health conversations in the workplace.
Why strong leadership on mental health makes excellent business sense
Coming down the mountain: Building resilience and a sustainable workforce 
A double-sided approach in the absence crisis 
Managing long-term health issues. Are Managers ready for the challenge?
If you'd like to find out more about becoming a Disability Confident Leader or would like to attend one of our Mental Health Awareness Training courses, find out more here.
Speak to our HR experts
Call us today on
Contact us