Colleague Spotlight – Emily Charlesworth
Meet Emily and read about her AdviserPlus career journey
November is National Career Development Month, established by the National Career Development Agency, with the goal of encouraging employers to inspire and empower their employees to achieve their career goals. As a people-first business, nurturing and developing our talent is paramount, so much so that we've promoted almost a third of our workforce in the last year alone. We're immensely proud of our track record of career development within the business and it's part of what makes us able to deliver outstanding services to our customers.
One such success story is our HR Technical Consultant, Emily Charlesworth. Emily has been with AdviserPlus since 2015 when she started as a Client Coordinator. After realising her passion for HR she completed her Masters in Human Resources Management and with the support of colleagues, got the job she had her eye on from the start.
Read Emily's Colleague Spotlight and find out more about her journey with AdviserPlus.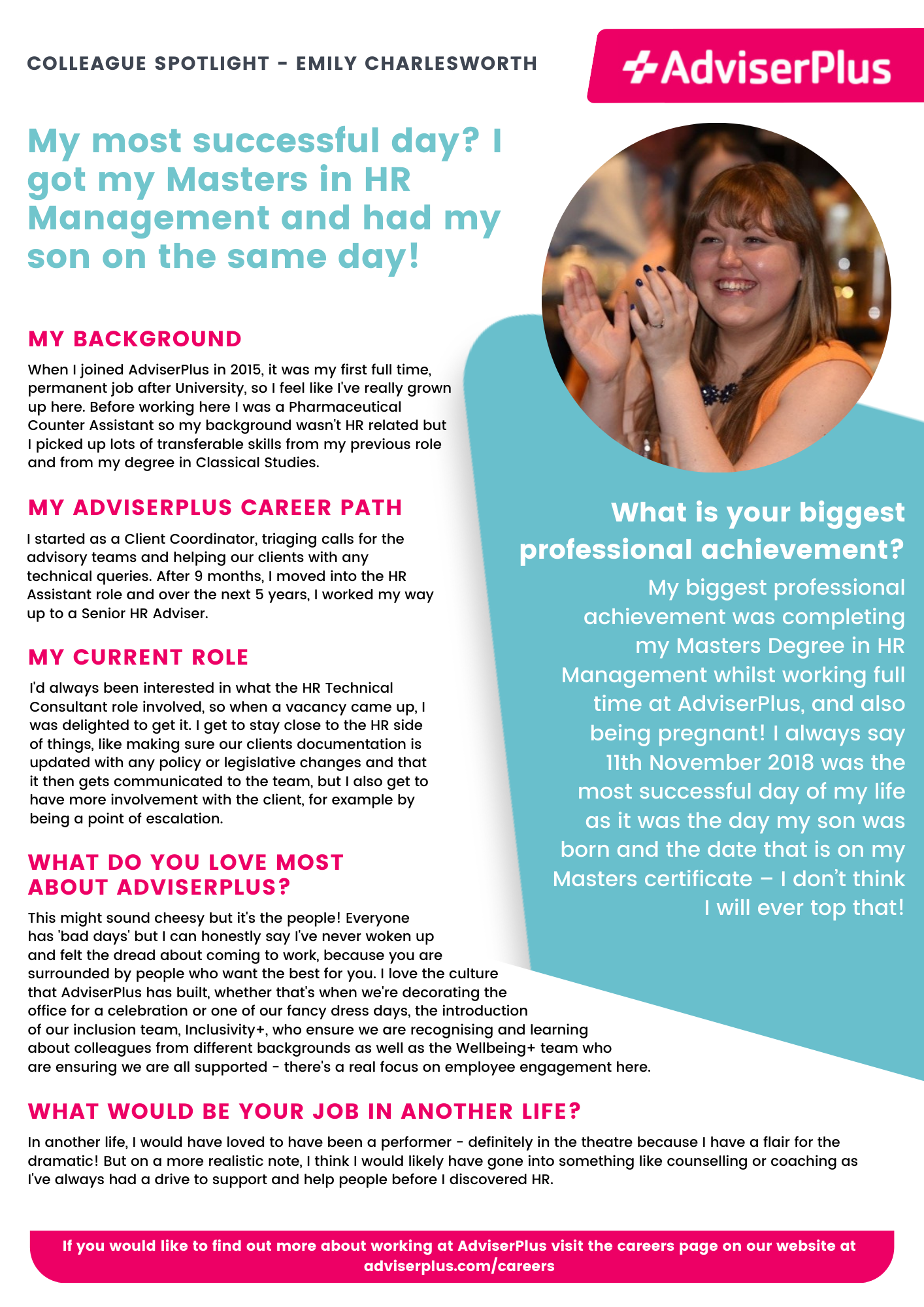 There are so many great career opportunities at AdviserPlus and, as Emily's story proves, we're really committed to giving our colleagues the opportunity to develop themselves. This commitment is based on the belief that the performance of our business is directly linked to the skills, development and performance of our people.
If, like Emily, you're looking for an exciting career in a people-centric organisation with great benefits, we are always looking for enthusiastic and talented people. Check out our Careers page on our website.
How AdviserPlus can help develop your line managers into becoming more confident leaders.
Our award-winning team of specialists, each with an extensive background in HR and learning and development, design and deliver tailored courses for line managers that focus on the key competencies and behaviours required to develop effective people management skills. We've helped thousands of leaders, managers and individuals drive business success through improving people management skills and performance.
If you'd like to find out more about how we can assist in the career development of your managers, check out our learning and development solutions.
Speak to our HR experts
Call us today on
Contact us