Guide
Managing Menopause
A guide for employers on how to support menopause in the workplace
A recent menopause survey* identified that 62% of respondents say their menopause symptoms impacted their work. This is a startling stat that highlights the need for better awareness and more support for people in the workplace going through perimenopause and menopause.
Menopause is often perceived as a personal and somewhat taboo subject in the workplace, with many people affected suffering in silence. This needs to change and employers need to make it easier for those impacted to feel that they are recognised and supported.
Download our guide for tips on on how best to support employees experiencing the menopause, here.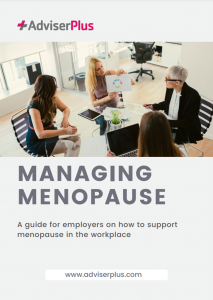 Managing menopause in the workplace
Also check out this video, put together by colleagues in AdviserPlus who have first-hand experience of the impact of menopause on their working life. It's a very insightful and honest conversation that sheds light on how much it can affect employees wellbeing in work.
*Vodafone and Opinium Menopause research
Inclusive policy support
A good place to start with demonstrating your support for employees impacted by menopause symptoms is to implement a Menopause Policy. We can support you on the development of inclusive policies and have policy bundles that include a Menopause Policy template. Find out more here.

?>