Online absence calculator: how much absence costs you
How much is absence costing your business?
Our research shows that absence costs a staggering amount for UK business – with CEO Today quoting £100 per employee per day. And if an employee is taking 7 or more sick days a year, which our research also suggests, then for a business employing 1,000 people that's a lot of money.
We've developed an online absence calculator to show you how much absence is costing your business, resulting from lost productivity and sick pay.
Access the calculator here.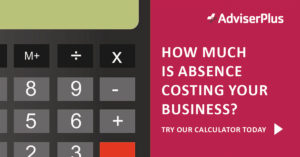 Speak to our HR experts
Call us today on
Contact us