People analytics: Revolutionising HR with data-driven insights
Best practice for driving business success with data-driven insights
Picture this: as an HR function or manager, you are armed with real-time HR insights and complete visibility into granular employee relations data, uncovering trends and actionable insights that are typically buried within vast amounts of 'big data'. Equipped with this knowledge, you become empowered to efficiently manage your people, deal with the root cause of issues, and elevate process efficiency within your organisation, positioning HR as a business-driven, agile function. This vision can be a reality with the right technology and analytics.
By leveraging data collected during the application of employee relations (ER) processes, organisations gain advanced insight into the efficiency and effectiveness of these processes and can proactively deal with issues impacting employee performance. This ability to identify problem areas and drive efficiencies in the management of ER processes enables more informed decision-making regarding people strategies and best practice, accelerating HR transformation and driving overall business efficiency.
Here we explore the benefits of a data-driven approach using real world examples from the HR analytics tool within our empower® solution.
Reimagining employee relations process analysis
Research conducted in 2022 shows that many organisations are still reliant on tools like Excel to analyse people data. Coupled with inconsistent ER process protocols and limited process visibility, this poses risks and vulnerabilities in HR's employee relations operations. Without access to crucial metrics, such as case outcomes, durations, and encountered errors, the task of improving processes and making informed decisions becomes challenging. This challenge is further amplified when data and process metrics are not available in a comprehensive, real-time view. To address these challenges, optimising employee relations processes and implementing robust case management and data capture systems are crucial.
Dashboard visualisations and analytics within the empower® case management solution provide valuable insights, enabling HR leaders and managers to make informed decisions based on evidence derived from accurate, real-time ER activities.
Before embarking on any transformation process, it's important to set out the objectives and goals of the initiative, so that you can measure success and ROI. Here are some examples of how HR can approach taking a data-driven approach to enhance the effectiveness of existing employee relations processes:
Identify and benchmark key metrics required to make data-driven decisions
Regularly monitor and evaluate process performance against the benchmark
Align all business areas with best practice, set goals, and implement strategies for process improvement
Determine the key people metrics and indicators that are relevant to your benchmarking and HR data comparison goals.
Using empower®, you can follow these steps and enhance the effectiveness of your existing employee relations processes to drive continuous improvement in your organisation.
Enhance quality control of policy and process metrics
Data quality is critical for making informed decisions. Organisations that manage employee relations cases effectively have processes and policies in place to ensure that the data being input is accurate, timely, and relevant.
Moving beyond spreadsheets is essential for managing a modern workforce and improving productivity and efficiency across organisations. While spreadsheets are useful for certain tasks, they can also be limiting in terms of accuracy, scalability and collaboration. The main challenge lies in collating inputs from different spreadsheet instances and presenting an aggregated view of the data.
Analytics dashboards provide people leaders with a powerful tool that allows them to drill down into the data to identify problem areas that need proactive action and areas of best practice. By using empower®, a unique platform designed by ER experts specifically for the complex task of managing employee relations cases, organisations can enhance process transparency to effectively track and examine every stage of employee relations procedures.
Complete data visibility empowers business leaders to identify patterns and trends across various data sets. This facilitates a better understanding of the root cause of issues, enabling HR to address problem areas with policies and training.
Employee relations analytics dashboarding transforms processes
Equipping HR leaders and line managers with integrated, department-level data, real-time analytics, and insights via interactive, timely dashboards unlocks essential answers regarding policy effectiveness, behaviour trends, and internal benchmarks, facilitating informed decision-making. This promotes a proactive approach to continuous improvement, reducing reliance on reacting to issues as they occur.
empower® offers organisations rapid visibility of case management dashboards, giving you everything you need as an HR professional to enhance the efficiency of employee relations processes. Advanced analytics implemented through empower® allow HR professionals to:
Access comparator HR data to identify process variations across the organisation and transfer valuable metrics to underperforming areas
Apply this knowledge to transform HR strategies and enhance overall business efficiency
Leverage best practices organisation-wide, simplifying tracking and boosting the effectiveness of HR operations.
empower® also offers analytics dashboards that enable easy analysis of process metrics. For example, using the innovative platform, HR professionals can identify cases with no further action following a lengthy formal process. This analysis can uncover:
Insights into reducing dependence on HR and advice lines, which increases efficiency
Methods for minimising case time by transferring efficient employee relations processes to other business areas
Identification of poor culture and training needs for managers.
Digitalisation is transforming the roles of HR professionals
Digitalisation is transforming the roles of HR professionals. With guided journeys, analytics dashboards, and in-depth insights, managers and HR leaders can eliminate unnecessary employee relations process steps to reduce errors and improve resource allocation. By adopting a proactive approach and leveraging technology, the management of these areas is strengthened, leading to a reduction in the number of issues that escalate to formal cases.
In the below client example, using empower®  led to a 32% reduction in formal case duration. This had a positive knock-on effect on productivity, minimising the duration spent on case management and achieving overall cost reduction.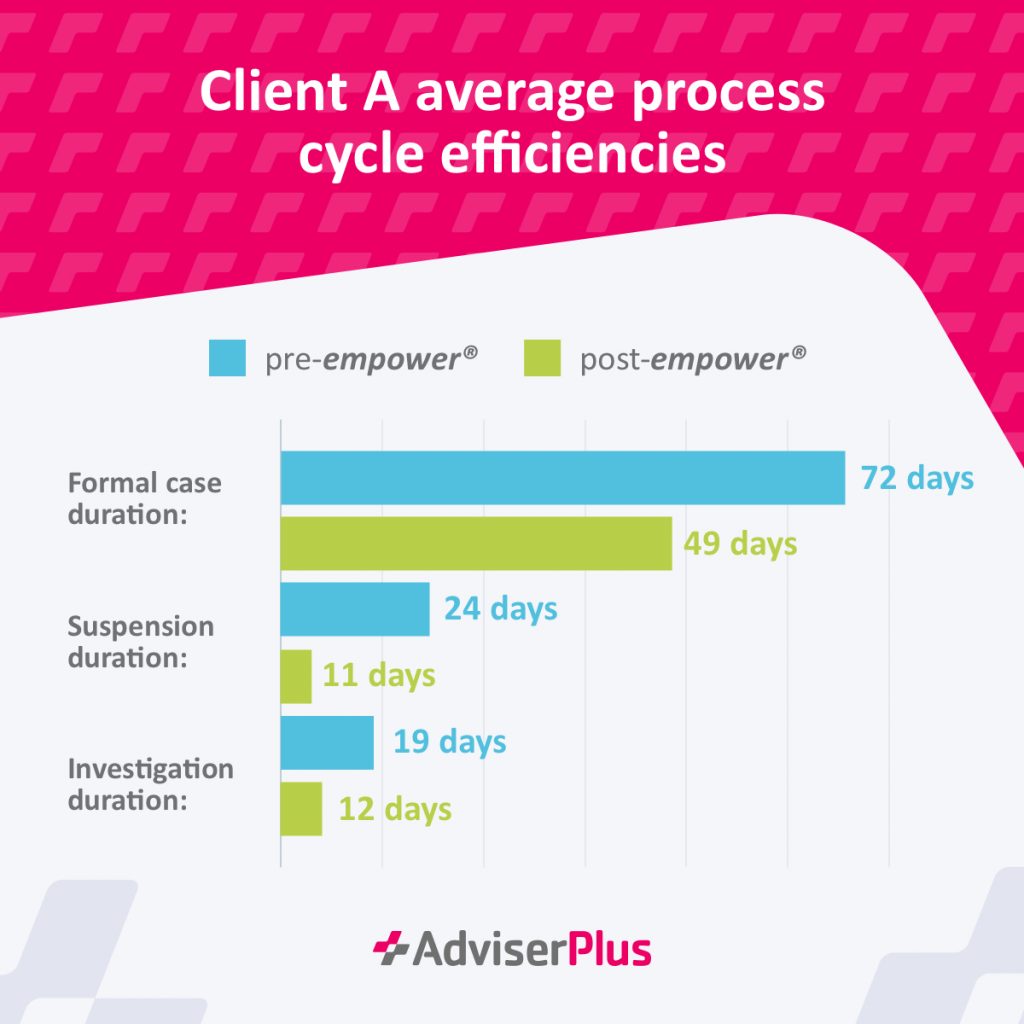 Learn how actionable insights and analytics can optimise your people strategies
Start your transformative journey with insights from this informative blog series, where our experts explore the power of effective employee relations analytics and how organisations can optimise people strategies with actionable insights. Explore the latest blogs in the AdviserPlus people analytics series to gain deeper insights into the advantages of implementing a data-driven approach for effective employee relations case management:
Take our people metrics diagnostic assessment
Take this diagnostic assessment to evaluate the effectiveness of your ability to derive insightful people metrics from your employee relations case data.
Speak to our HR experts
Call us today on
Contact us